I happen to be quite excited about this week's Blove. I stumbled across this one the other night as I was caught in one of my many and frequent blog rabbit holes (you know - a link, leads to a link, leads to a link, etc.). Well, I'm so glad I did because this was really a find! If you have little girls, you'll be in heaven. If you have little boys, you'll start daydreaming about having a little girl (or at least how to get a ruffle on your son without your husband getting too miffed). Seriously, it's that cute.
It's called Girl. Inspired.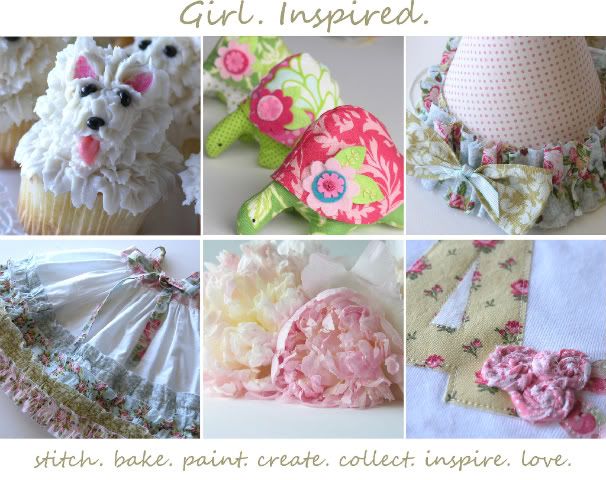 In a word: sweet. This mommy of 3 beautiful girls comes up with the most gorgeous creations. From dresses to pinatas, her choice of fabrics and texture turns every picture into absolute eye candy. And of course everything must have either a ruffle, bow, flower, or better yet - all three! Even these diy party hats she made for her daughter's birthday are covered in frills! You'll most certainly find great tutorials, but if you want the frills without the work, Girl Inspired has an oh, so lovely etsy shop which you can get to here. I very much encourage you to check this one out and guarantee that you will leave Girl Inspired, well, inspired!
Happy Monday, friends. Thanks so much for stopping by!