Happy Monday everyone! Is your week off to a great start? Have you had your coffee yet? My little guy was up quite early today, so I'm going to boast in the fact that I had my first cup by 6:30. Apparently new moms find crazy new things to boast about. Like the fact that your baby had 3 days of great pooping! Oh, dear.
Anyhow, we had a fantastic weekend (I hope you did too!) With some special family members in town, I put together a big family picnic at a near by park. It was great fun and as soon as I can gather and organize all of the pictures taken, I'll be sure to post them.
Well it's Monday, and you know what that means...
This week I have a great find for you. The creator is a girl after my own heart. It's called
Caits Creates

. Here's her button: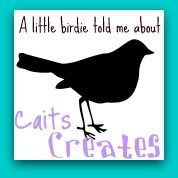 Cait is currently in Grad School, works a part-time job, and still manages to be crafty and bloggy! I say she's a girl after my own heart because she's all about thrifting. Many of her posts share her great thrifty finds and how she oh, so creatively upcycles them into something fabulous!
Another feature that makes this blog read-worthy is the "Deal of the Week" segment. She manages to find ways to get things cheap or free like $5 movies or free Valspar paint! Now who wouldn't love that?
So there you have it. Another great new blog to add to your roll. Hop on over and show Cait some BLOVE!