Hello, friends. Well, I am very excited to share with you a new feature on my blog called "That's What She Said!" It's a series of product reviews and to explain further, I've created an introductory video.
I was so excited, I also created a little button!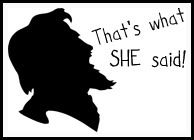 So check back soon for more from "That's What She Said!" Have questions or comments, please leave them in the comment section! Thanks!